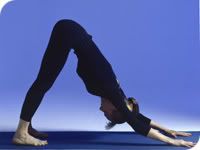 Anyone who knows me to any extent, knows that I get up obscenely early every morning (4:30am) and engage in morning yoga. I call it yoga, because it's too complicated to tell people that it's actually a combination of exercises I've assembled over the last twenty-odd years from the different systems I've learned. My routine has continuously changed during that time, and contains elements of aikido, t'ai chi, chi kung, and hatha yoga.
It all started when I was a
fanatical aikidoist
in my twenties, and started each day with
bokken
(wooden sword) practice. I always had in mind that my routine, whatever it consisted of at any given time period of my life, was a spiritual discipline, and not just a physical workout (though my aiki weapons routines used to make me sweat very nicely), which meant that the last part of the routine was always
meditation
.
As life got more complex (read: having to earn a living and nurse literary ambitions) and commitments increased (read: wife and children), I always strove to create the "ultimate" series that was relatively brief, still hit most of the muscles and joints in the body, and prepared the mind for meditation.
In August, while attending the
AMORC
World Convention in Berlin, I roomed with a member from Hungary. Every morning, he did a short series of five exercises. What got my attention was that they started with an exercise consisting of holding one's arms out, palms down, and spinning clockwise. I was already doing this exercise as part of my morning routine, but I'd picked it up from
a book by Joseph Weed
that had been out of print since the 1970s; a source I thought was pretty obscure. He showed me a Hungarian translation of the book
Ancient Secret of the Fountain of Youth
by
Peter Kelder. He offered to loan it to me, but since I don't like reading English books in foreign languages, and since I felt I already had "my" routine, I politely turned him down. But I was really intrigued that the spinning exercise was the same as the one in the Weed book, although Weed said it was part of the training of an ancient Greek seeress. (I think the Weed thing is material for a future posting).
So a little over a week ago, I was researching something on the Internet, when I started getting hits for The Five Tibetan Rites, including this video.
Have you ever considered how that element of randomness to Internet searches makes the Internet kind of "oracular"? I mean: I don't know about you, but I seem to often "stumble across" things just at the very moment I need them in my life. Well, this Five Tibetans thing was popping up pretty often, so I decided to go for it. So now I've incorporated them into my morning routine. More than that: they've become the

basis

of my morning routine. I use a little chi kung twist to warm up my spine, and an aikido weight shifting exercise to get the circulation going in my legs and arms, but the heart of the workout is The Five Tibetans.
It's only been five days, and I can already feel things happening in my body. Yesterday and the day before I kept getting these warm sensations in my lower back like someone was holding a hot water bottle up against it. Yesterday I used it as the warm up for my every-third-day jogging session instead of my usual warm ups. I was bouncing down the sidewalk like a rubber ball the whole way (yee-haa!). Best run I've had in months!
There are all kinds of theories about why it works, and I have some thoughts on that, but I need to get to bed so I can get up and do my exercises in the morning. ;-)
Maybe I'll have to blog about this more later.