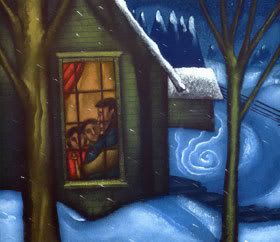 (This is the first in a series of postings on various ways of looking at, and working with, fairy tales. Instalments will be published every two to three days.)

The material that makes up the following series of postings was originally written without any references to myself or to my own experiences, but after getting about half way through the project, it became apparent that the essay wasn't really jelling properly. I began to suspect that it needed the context of how my perspective has shifted over time in order to give it focus and direction. So, I went back through and inserted the personal aspect as delicately as possible, and only as much as needed. It's not that my perspective is so important, or any more important than anyone else's. It was just necessary to give the reader a pair of eyeballs to see this subject through. It was Hellibrarian's comment on
my last posting about a fairy tale
gave me the angle I was after by mentioning "the field of fairy tales as literature."

This story begins when, at the age of eighteen, I rediscovered a lovely cloth-covered hardback German-language edition of Grimm's Fairy Tales on a shelf in my parents' house. The beautiful beige volume with watercolor illustrations stirred memories of childhood, at which time I couldn't read German yet, but often leafed through it looking at the paintings. I began to read the rediscovered treasure, and noticed that there was a different pleasure in reading the tales as an adult than as a child. Part of my new perspective came from being a student of mysticism and the occult. There was a man twelve years my senior who played the role of spiritual mentor in my youth. He owned a vast library including " many a quaint and curious volume of forgotten lore", to which I had full access. From this perspective I saw the fairy tales as magic universes full of secret coded messages that could only be unlocked with the proper key. I analyzed the stories (as well as I could) pseudo-kabbalistically, and semi-Freudianly (We all know a little Freud, after all. It's in the food we eat.) But as charming as that all was, I knew there had to be more. There must be more one can get out of them.



A few years later I was studying German as an undergraduate. That's where I got exposed to fairy-tales-as-literature. To many people's minds, the phrase fairy-tales-as-literature seems to ennoble what are commonly thought of as "merely" children's' stories. After all, literature is part of what we regard as "
high culture
." The
Grimm's
tales are associated with those towering figures of philological scholarship, the Brothers Grimm, who dedicated their lives to the documentation of the German language in the
Deutsches Woerterbuch
(The German Dictionary). The dictionary was a nationalistic project, meant to support the various efforts being made at that time to somehow weave the dozens of principalities from the defunct Holy Roman Empire back into some semblance of unity. The Grimms thought that could be achieved through cultivation of the common language.

Because the prime motivation for collecting these "German" fairy tales was actually a political/linguistic project, this left its stamp on how they were regarded in the 19th century. Indeed, the Grimms were not the only scholars collecting fairy tales and myths (i.e. folklore) in the German-speaking realm during that period. Dozens of collections were published by as many collectors. Much of the early scholarship and commentary on fairy tales retained this focus on fairy-tales-as-folklore. The commentaries dealt with geographical origins, and ethnic heritages. If there were similarities between tales collected in disparate locations, the question was how the oral tradition had travelled, and which cultures communicated with which others. Regarded as folklore, fairy tales were seen as "memes" passed from one generation to the next, like the best way to skin a deer, or the most efficient way to build a house.

Let me tell you an anecdote that sheds a little light on the limitations of fairy-tales-as-literature or folklore, that is, the academic approach. While a graduate student at UC Davis, I attended a seminar in German Romantic literature. Four of us met weekly in the professor's office. As we discussed fictional works of such writers as E.T.A. Hoffmann, Clemens Brentanno and Novalis, it became obvious to me that I saw things in some of these stories that the other students (or the professor, for that matter) didn't see, due to my background in esoteric literature. Most of the time I would keep this to myself, but at other times, when they were getting all wrapped up in (i.e. sidetracked by) some theoretical approach, I would reveal to them which legend or mystical doctrine was being referred to in a story that shed light on the author's intentions. On one occasion the conversation had taken some pretty absurd turns before I decided to inform them that the reference to mandrake root in one story had to do with the fact that European lore says the mandrake root has magical powers due to its being shaped like the human body. I further told them it was believed the root screams when it is pulled out of the ground, and it is fatal to hear this scream. For this reason they harvested it by tying a rope to it and getting some beast of burden to pull it out while the humans jammed their ears shut. After relating this information, there was a short silence. Then Brigitte, one of my fellow students squinted at me and asked, "Where the hell do you know these things from?"

My point is that scholars of Romantic literature often fail to understand that there's a dimension of that literature you can't understand unless you take the authors' obsessions with certain metaphysical ideas seriously, and not smile indulgently at their quaint superstitions. Novalis, for instance, made an intensive study of the works of
Jakob Boehme
. How can you grasp what's going on in Novalis's works without understanding his mystical view of the world? The same goes for fairy tales. The academic approach often leaves something to be desired. The mystical side of me was left dissatisfied.

The discipline of folklore studies has its uses, but fairy tales are much more than folklore. And as flattering a designation as "literature" is, fairy tales are also much more than that.